Relay For Life
       The Relay for Life event took over the track this past Saturday as students showed support and helped raise awareness for cancer. The student turnout shocked Jordan Vanni, who couldn't be happier that the community was supporting a great cause.
          "I wanted to come today because it's really great to be able to help raise money for a good cause, and to help people affected by cancer," junior Camille Deranleau said.
       Deranleau came to the event with several friends including junior Hanna Banfield who walked the track for hours to support the relay.
       "It was a really nice way to catch up with people, and just hang out while also doing something to help support the community," Banfield said. She and Deranleau stayed for over three hours and walked a combined 6.5 miles.
       The weather was beautiful and the snow on the ground just made the Relay more authentic to Conifer.
       "I've been doing Relay for Life for three years now. It's really important to me to help out other people who are less fortunate than me," Vanni said. She was the driving force behind setting up the relay at Conifer. "I've lost a handful of people to cancer and I think it's really important to be able to fight for others and help find a cure."
       The relay was a great place for those in the community that w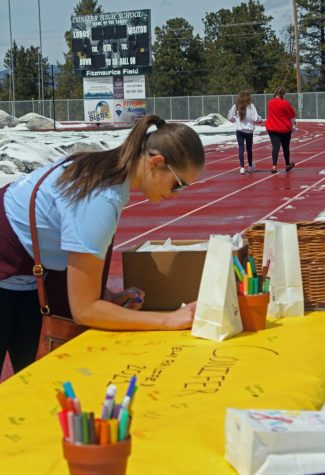 ere looking for a way to help out. Often it is hard to find a place to start when it comes to something like a cure for cancer, which is why Vanni set up the Relay. At the Relay over $700 was raised.
       "It means a lot that people are coming here and walking and raising awareness for cancer and donating money so that we can support both the American Cancer Society and Relay for Life," Vanni said. She worked the event all day, walking almost nine miles.
       The track was full of games and smiles as Conifer students walked, played backyard pong, and collected beads – which represented each lap a student completed.  
       "I was really excited to help out today. I showed up at ten, helped carry things down, and then jogged four miles," senior Emma Mead said. "The way the relay was set up was great, the snacks and games were great additions, but the best part was just getting to hang out with everyone."
       The overall goal was to help raise awareness and donate to the American Cancer Society, so if you would like to help Conifer reach its goal of raising $2,500 visit Relay for Life's fundraising page. Fundraising ends in 12 days.
Leave a Comment