Teen Art Exhibition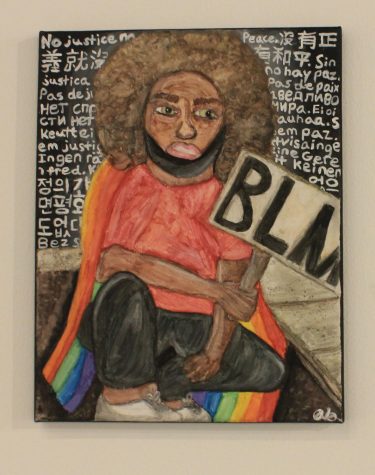 Center for the Evergreen Arts (CAE) hosted an Exhibition called 'Hear Me: Teen Show' which exclusively featured teen artists in Colorado. 
     The gallery showcases a total of 48 pieces, selected from over a hundred submissions. The pieces chosen represent 15 different schools from across the state.
     "We were thrilled to get so many amazing entries despite the challenges of the pandemic," Junior Samantha Ferguson, said. 
     The exhibition was overseen by the CAE's teen council. The council is led by Ferguson, a student at Conifer High School. 
     The teen council went through every submission, selecting their favorite pieces to feature. They also chose the pieces to receive awards. 
     The piece to receive the 'Best in Show' award was a graphite illustration titled 'When the Birdcage Breaks'. The artist is Aspen Shih, a student at Rock Canyon High School. The artwork is for sale for 400 dollars. 
     Conifer senior, Alison Braun, received an Honorable Mention for her ceramic piece titled 'An Expensive Fix'. 
     Braun said, "I chose to create a very detailed and vile mouth. My inspiration was the initial spark of my ongoing anxiety that was brought on by the bloodcurdling dentist."
     Conifer Junior, August Blackmer, submitted a watercolor painting titled 'Revolt 2020'. The description for the piece goes into detail, explaining the connection to the Black Lives Matter protest that took place in 2020. 
     "In the Summer of 2020, the fight for equality rages across the world. Still today we say their names to make a change. Black lives matter today, tomorrow, and always," Blackmer said. 
     Other Conifer High School students were also represented in the show. Ainsley Clagett and Hanna Holt both had pieces in the show. 
     "Hear Me is an exhibition that recognizes the power of our young people, acknowledges their desires for change, and helps them find their voice through art," Sara Miller, Senior Director of Exhibitions and Education at CAE, said.
Leave a Comment