Girls State Swim Meet One For the Books
The 400 Free Relay team broke records all weekend long
The Girls State Swim Meet took place at Veteran's Memorial Aquatic Center (VMAC) in Thornton on Friday, February 14, and Saturday, February 15.
The Lady Lobos had lots of success during prelims on Friday and Finals on Saturday.
The most exciting race was the 400 Freestyle Relay swum by Elsa Debrunner, Rachel Ley, Sage Swegle, and Megan Wilkins. They went into finals seeded 8th place and the girls fought their way to win 4th place! The old school record was 3:55.94 the girls went a 3:48.02! They crushed the record by almost 8 seconds! **NEW SCHOOL RECORD**
Highlights of the State Meet:
Overall, Conifer placed 16th out of 35 teams. The team goal was top 20!
200 Medley Relay 20th place – Megan Wilkins, Rachel Ley, Elsa Debrunner, Sage Swegle broke the school record 1:59.43. (Old record was 2:01.13)      **NEW SCHOOL RECORD**
200 Individual Medley – Rachel Ley 13th place 2:20.86.
50 Freestyle – Sage Swegle 17th with a 26.53.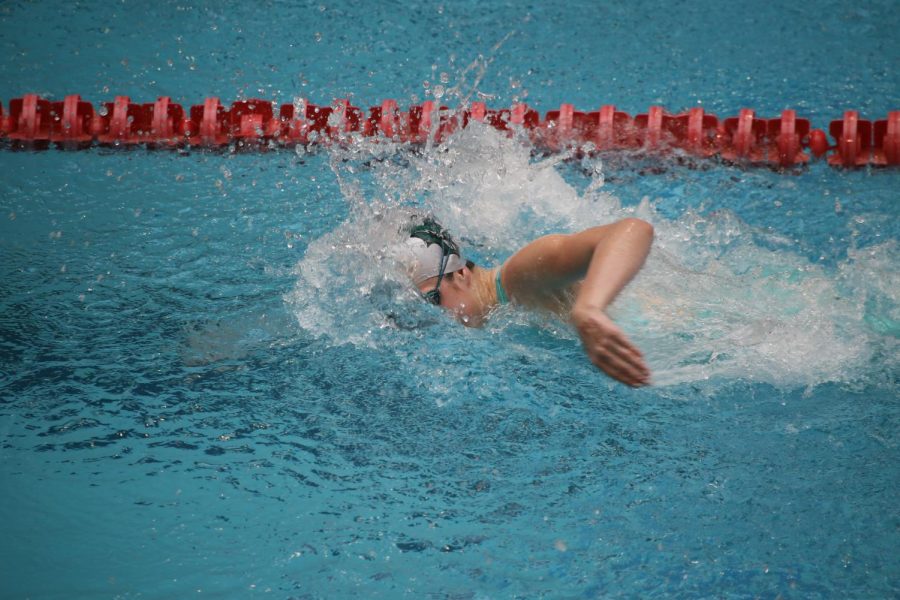 100 Freestyle- Sage Swegle 16th with a 57.87.
500 Freestyle – Megan Wilkins 5th place with a 5:20.14 **NEW SCHOOL RECORD**
100  Backstroke – Megan Wilkings 10th place with a 1:01.58
400 Freestyle Relay – Elsa Debrunner, Rachel Ley, Sage Swegle & Megan Wilkins. 4th place! 3:48.02! **NEW SCHOOL RECORD**
"This was definitely a tougher/faster state than last year. It caught our girls off guard, but they did great," Coach Dede Ley said.