Denver's Horrifying Experience
The 13th Floor in Denver, CO, provides fear and screams for anyone willing to take on the thrilling experience. Make sure to stay alert, as you never know what is waiting to scare you; from the effects to the costumes The 13th Floor will be sure to meet your expectations and make your adrenaline rise.
When planning a haunted house, everything gets serious consideration, from the theme of the haunted house, to where the picnic tables are placed, to the timing of the music and the lights.
"Before we open up, everything gets placed; uniforms, costumes, and makeup. We make sure it's working all year round," Skyler Green, the customer experience manager, said. 
Planning for the haunted house takes all year and the workers don't get a break.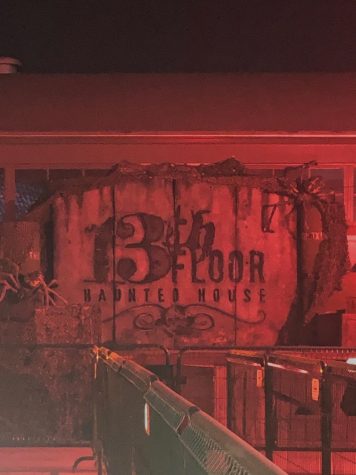 Themes and creations get made as soon as possible.
"We actually have a corporate team that works with our corporate staff that creates the attractions," Green said. "Usually we have between the end of February until mid-September to get the new creations."
While you're anxiously waiting to enter the haunted house, you'll be greeted by eerie characters. Mr. No Name, the serial killer clown, was a popular character at The 13th Floor. 
"Who wouldn't want to become a clown!" Mr. No Name said, in a high pitched unique voice. " I became a clown because of my mother's nagging all day long."
A new character that came to The 13th Floor was a half rat – half human. From jumping onto tables to getting in people's photos, he quickly grabbed people's attention. 
Once inside the haunted house you're hurried into an elevator that takes you to the experience. Characters come out and chase you. Objects pop out of the walls. 
"Towards the end it was kind of funny. I was laughing the entire time. The scariest part was the people that would try to grab you," Ellie Woodward, a sophomore, said. 
A new attraction for The 13th Floor is the Sensory Overload, a maze where you are completely in the dark and you can only use your sense of touch to get out. This attraction was filled with surprises and was definitely scary. 
"We couldn't see anything in front of us. That made it pretty scary," Jenna Stricker, a sophomore, said.
Overall, the experience was amazing! The elaborate detail in everything made it all come together in the most horrifying way. 
"I would totally recommend going!" Stricker said. "I screamed a lot."
Leave a Comment