A Baseball Getaway
The Baseball teams travel to Amelia Island, Florida, for Spring Break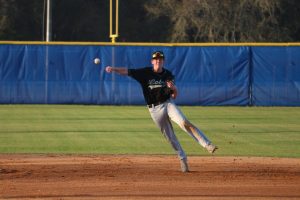 Over Spring Break the baseball team traveled to Amelia Island, Florida, where they played three games and practiced for four days. They practiced at Fernandina Beach High School which was five minutes from the hotel where they stayed. The entire team stayed at Amelia Hotel at the Beach, which is one block from the beach and to top things off there was a Dairy Queen right across the street. This location couldn't have been any more ideal and made for a fun vacation filled with baseball, the beach, and lots of ice cream.
Every morning from Monday-Thursday every player had to be up and ready to go practice hard for four hours at 8:00am. Both JV and Varsity had 3 games, one on each day Tuesday-Thursday. JV went 0-3, and Varsity went 1-2 over the course of these games. JV and Varsity played Fernandina beach High School, and West Nassau High School. For JV's third game they played Yulee High School, but Varsity played Hilliard High School. Varsity beat Hilliard 8-2 and ended the trip on a winning note.
Over the break players made a lot of improvement on their skills.
"That trip really helped my overall baseball skills and I think I came back a much better player" freshmen Michael Fisher saed.
Each player got one on one instruction with head coach Justin DeBerry. For one practice a coach that played at Florida State and was drafted by the St. Louis Cardinals came and worked with the teams for an entire practice.
The practices in Florida were twice as long as a normal practice for the team. A normal practice goes for two hours right after school, but since it was Spring Break, the players had no homework and practice didn't have to start late in the afternoon due to school. Players were able to not only work twice as much, but they were able to go more in depth with each and every drill.
The team got a lot of baseball practice and games in for just one week, but they also got to have a vacation. The entire team had free time all day Sunday, Friday, and in between practices and games to spend on the beach playing volleyball, riding waves, or relaxing while having some ice cream from Dairy Queen. Friday morning everyone went on a shrimp boat in the Amelia River where they got to see shrimp, crabs, and even an occasional dolphin.
Amelia Island was a great place for the baseball team to have a very productive Spring Break, yet allowed for the players and coaches to step away from the normal schedule and have some fun while playing the game they love.