In the past, Conifer's girls' volleyball team had four levels, Varsity, Junior Varsity (JV), Level 3, and Level 4, this year, for the first time in CHS history, there is a brand new team, Level 5. 
"I'm thankful for being on level five and having the opportunity," freshman Greta Pritchard said. 
The Level 5 team was created in response to a large amount freshman girls showing up to tryouts. The squad is led by former Level 4 coach, Jeannine DiPerna, and consists entirely of freshmen. There are eight players on the team. 
"My teammates are super encouraging and we can always lift the mood up," freshman Chloe Plow said. 
This is Plow's first year playing volleyball, she was placed on the Level 5 team.
"It usually looks like we are doing exercises and then we practice different skills such as serving, hitting, passing, and setting," Plow said. 
Level 5 previously practiced from 4:00 to 6:30 alongside Levels 3 and 4 in the Auxilary gym. Recently they changed their practice times to 6:30 to 8:00 p.m. because of overcrowding. 
"I've seen some good improvement," head coach of CHS volleyball Laurie Eddy said.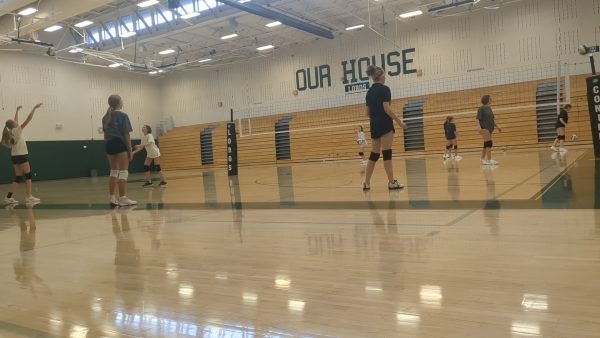 The team is scheduled to play in scrimmages against the CHS Level 4 team, games against other schools, and weekend tournaments. On August 29th, Level 5 played their first game of the season against Columbine's Level 4 team, taking over for Conifer's Level 4. 
"We just helped each other out and we stayed positive," Pritchard said.
The final score for the first set of the Columbine match was 6 to 25, and the final score for the second set was 10 to 25, giving Columbine the win for the night.  
"When I was coaching at Evergreen, I was there for seven years. I came in a year after they had a Level 5 team, and the reason why I am really psyched about the idea is I had a girl put on my Level 3 team, who was placed on the Level 5 team [the year before], who had never played volleyball before in her life…she was such a good athlete and by the end of Level 3 she was pounding quick sets," Eddy said.