Girl Scout builds bee hotel to protect pollinators
Special to Colorado Community Media
"Save the bees!" It's a cute slogan, good for bumper stickers and hippie t-shirts, but according to Miriam Koller, we've got it all wrong.
"When people hear 'bees' they automatically jump to honey bees, bee hives and honey, which is not exactly what this is about," Koller said.
In fact, 90% of native bees are solitary, meaning that they don't live in a hive at all, according to the University of Arizona. These bees are crucial for pollination, but their habitats are being destroyed.
Koller, a rising junior at Lakewood High School, wants to protect these solitary bees by building them a hotel. The concept may sound odd, but it's far from a new idea. Koller's mother is from Switzerland, where bee hotels are more common, appearing as wood with holes drilled in it or stacks of small tubes that give the bees a safe place to rest and evade birds.
Koller's bee hotel project is part of how she plans to earn her Girl Scout Gold Award, the program's highest honor and the equivalent of the Boy Scouts' Eagle Scout status. She has been involved in Girl Scouts since kindergarten.
"This is something I've been thinking about for a while, so it's a little bit unreal to me that it's actually happening," Koller said. "I think that's really exciting, for not only me, but for the community."
She will be putting the hotel in the Evergreen Community Garden in early fall, where the bees it houses will pollinate the produce grown by community members. The project is more than just wood with holes drilled in it. Koller has researched everything, from which way the structure should face to what materials are safe for bees.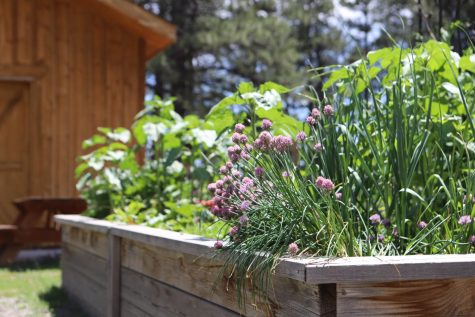 In fact, many of the materials Koller is using were donated by community members looking to help her give back to the community. When she reached out online asking for donations of supplies for the project, response was overwhelming. Neighbors donated scrap wood, birdhouses and other materials for her to use in the construction of her bee hotel.
Koller isn't stopping with her hotel, though. The structure is only "phase 1" in what she hopes will be a multi-year, two-phase project. The next phase involves educating other communities about solitary bees and encouraging them to create organic and bee-friendly gardens, and Koller is aiming big.
"I'm hoping to spread the word about my project and spread it to other parts of the country and even the world," Koller said.
She encourages those who are interested in making their own gardens bee-friendly to stay away from pesticides and research flowers that solitary bees are drawn to. But her project is about more than bees. It's about taking initiative.
"I'm really hoping that some people are going to be inspired to start work on something that they want to see changed in the world," she said.
Leave a Comment