Center for the Arts Evergreen Hosts Third Annual Day of the Arts
Chalk scratches against concrete, a guitar strums from the stage and Center for the Arts Evergreen begins its third annual Day of the Arts.
The celebration on June 4 featured performances from local nonprofits, hands-on art projects for kids and local artists selling their work.
"We're trying to make people understand that the arts center isn't just for artists, it's for the community," CAE Board President Kristin Witt said.
A number of performers took the stage during the celebration, from local bands to theater and dance groups. For dancer Abigail Sackett from The Evergreen School of Ballet, the event was a chance to make up for performances that were canceled due to the COVID-19 pandemic.
This is ironic, because without the pandemic, CAE's Day of the Arts may never have existed. The event was originally called "Evening for The Arts" and was a formal event designed to recognize the CAE Arts Person of the Year. When the event needed to be moved outdoors as a COVID-19 safety precaution, organizers took it as an opportunity to redesign the event altogether.
"We decided to create something that could give back to the community," CAE Senior Director of Exhibitions Sara Miller said.
Day of the Arts has done just that. This year CAE's partnership with Sculpture Evergreen brought more hands-on opportunities to the celebration, like a workshop that encouraged kids to use recycled materials like Styrofoam, bottle caps and tennis balls to build their own sculptures. These completed sculptures are now on display at the CAE building.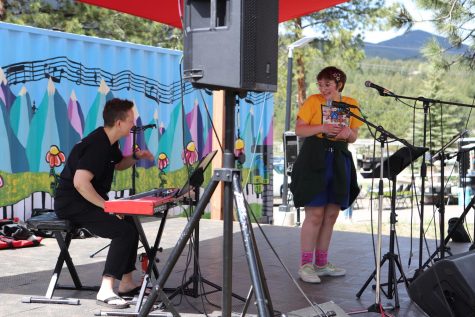 The event's hands-on elements are intended to create a love for art in children. Malcolm Mackay, 10, liked the event's chalk-art competition the most. His drawing of a sandworm from the movie "Beetlejuice" earned him first place in the youth category of the competition, but Mackay believes art is about more than winning prizes.
"Art lets you put all of your emotions into the drawing," Mackay said.
Next to Mackay's sandworm on the sidewalk outside of CAE is an intricate hummingbird, drawn in chalk by artist Kaylie Hall, who spent over four hours on the piece. Experienced artists like Hall and potter Tanya Keith attended the event to showcase CAE's different programs.
The organization's next big event is the 2022 Summerfest, which will be July 23-24, but in the meantime, CAE has a number of workshops, concerts and art exhibitions. More information can be found online at evergreenarts.org.
"If you drive by this building and you're thinking, 'Gee, I've never been in there,' you need to come in because you'll be surprised," Witt said.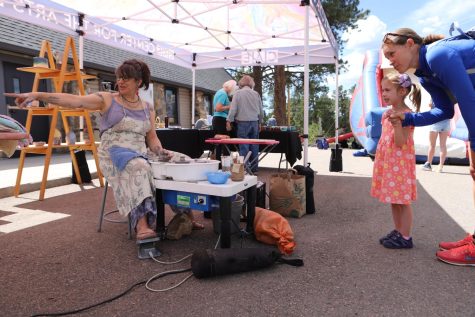 Leave a Comment