A Peculiar Story Brought to Life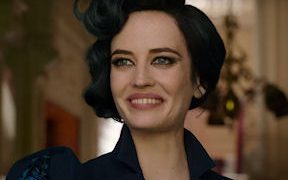 Hang on for a minute...we're trying to find some more stories you might like.
With creepy, antique pictures, unique characters, and a truly peculiar story line, Miss Peregrine's Home for Peculiar Children is now not only a book that should be read, but a movie that should be seen.
The author Ransom Riggs has a particular method to make his novels so different than any others out there. He used to collect vintage pictures from old boxes at second hand stores and garage sales. Eventually, this hobby led to the writing of his first book; the pictures inspired the plot and characters found within the pages.
This story begins with Jacob Portman, a 16 year old boy whose life is dull and absolutely ordinary. After his grandfather's untimely death, he begins to discover the truth behind the bedtime stories his grandfather used to tell him as a child. He finds himself swept up in the magical children's home his grandfather had grown up in. Jacob meets many children all with their own special abilities.
These abilities range from being as strong as Superman to being lighter than air itself to seeing the future and having the ability to bring inanimate objects to life. Miss Peregrine keeps these children safe by creating a time loop which she resets every 24 hours.
This means that for them, every day is September 3,1943. When evil creatures, known as Hollowgasts, begin to jeopardize the safety of the children, they must band together to get their headmistress back and defeat these terrifying beings.
Barely two weeks after its release, Miss Peregrine's Home for Peculiar Children has already claimed the top spot in the box office making more than $28 million which came as a surprise because the film originally opened with low expectations. This new film covered almost all major points made in the book, which is surprising; typically, movie producers have to cut out a lot of things so the movie doesn't end up running for five hours.
The only main differences between the book and the movie was the swap of powers between Emma Bloom and Olive, which could be frustrating as a fan of the book but didn't affect the plot in any way.
Although the ending was completely different, it was pleasing as a viewer because it provided an alternate ending that I had never thought about before. It was very satisfying to have two alternate endings to the same story because it opened up a whole new world of possibilities. I think it gave the audience as well as Jacob a little bit of closure which the book didn't provide.
The film covered all points but, in doing so, it jumped a little too much from idea to idea, which could prove to be difficult to follow if you haven't read the book.
I also noticed that some of the events and 'rules' didn't make sense. As readers, we tend to just accept the facts to a story, even if it doesn't make sense. I ended up doing this while reading the book but one of the comments made by Miss Peregrine in the movie contradicts the laws of the time loop.
I thought the actors were just as I imagined them. Tim Burton did a wonderful job capturing the creepy aspects of the book as well as the meaningful ones. There were even a few things added to the film that were not in the book, but gave it that extra touch that was not at all disappointing.
"I was definitely really happy with how it turned out. The book and the movie correlated really well and I think the screenwriters and director did a really good job of making sure that the book came to life the way I think it was intended to," Taylor Mitchell, a sophomore who has read both the book and seen the movie, said.
Looking for something to do? Read this fascinating story and become wrapped up in their world. Not a fan of reading? Visit your nearest movie theater and purchase your tickets. I can easily say that you won't be dissatisfied.