Review: Once on this Island hopes for the Bobby G awards
Hang on for a minute...we're trying to find some more stories you might like.
The sounds of thunder rumble overhead as the peasants of a small tropical village fill the stage. It is the final performance of Once on This Island as well as the end of an era for its performers.
   "I feel sad, but I'm also really happy that a lot of the stress is over," freshman Justin Stephens said. "But, I wish it could go on a little bit longer and that we could improve more."
   No matter the grade, all actors in Once on this Island felt a mixture of happiness and disappointment at the end of the weekend. For some, it was their first of four possible school productions, while for others, it was the last.
   "I'm a little sad because it's my last high school performance, but I'm really glad," senior Sophie Saxton said. "We pulled it together and pulled it off, and this program is going to grow over the next few years and be so amazing."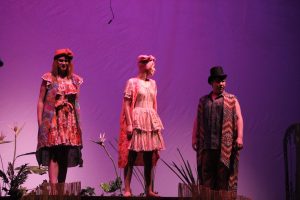 Regardless of grade or experience level, the Conifer Arts Program is accepting to anyone that wants to join. Those involved put their heart and soul into the months spent preparing, and the seniors that are leaving are eager to pass the program on.
   "I'm kind of sad, but it's also a relief because it's a lot of hard work," senior Ben Powell said. "Anyone who is thinking about being in the performing arts program at Conifer should definitely do it. It's a lot of work and it is a big time commitment, but it's totally worth it in the end."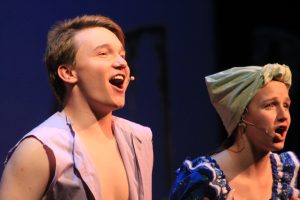 In addition to making many memories, the show was entered in the Bobby G awards. This is an annual celebration of high school musical theatre. An undercover theatre expert attended one of the performances and there is a chance that the show will be nominated for the award show this spring at the Buell Theatre.
     "We did a really good job," freshman Phoebe McKeown said. "We have a really good chance at the Bobby G awards, because it's a really talented cast."
   Once on this Island was a successful show, and its closing was a night of tears, lights, and laughter. The drama program is sure to grow in the years to come, something the returning cast members will ensure.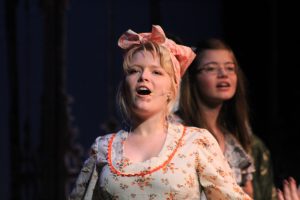 Photo by Felix Randol
   "I felt that we really killed it," junior Christopher Bromberger said. "It was a good show. I'm glad everybody could come see it, and you should come watch next year's. It'll be even better."